Starting an eCommerce business like dropshipping is easy with AliExpress, but things get complicated when you start taking it seriously. After comparing various platforms like Alibaba, DHGate, and Global Sources, you may question whether you've picked the right one. Understanding the logic behind the platforms will give you more confidence in running your dropshipping business. Let's dive in.
Gap between Internal market and External market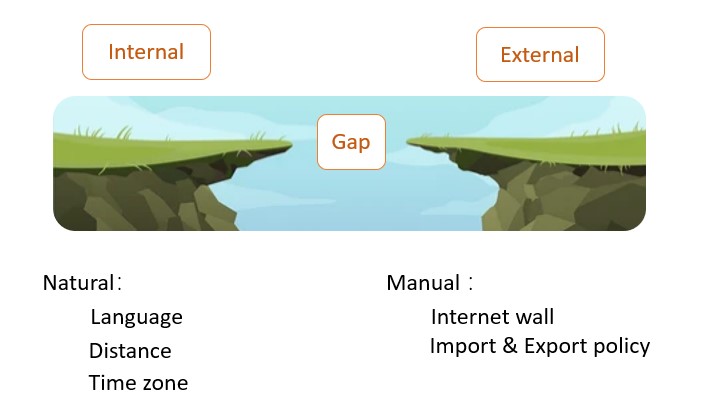 The gap has two parts: natural and manual. The natural part consists of language barriers as most of the world speaks English. There is also the distance and time zone differences, making physical access to China and working hours challenging. The manual part includes the internet restriction by the Chinese government and import/export policies between countries.
The most critical factor is the language barrier, which poses a challenge for Chinese people learning English as a second language. It's challenging for us to learn and speak English, and we prefer speaking dialect Chinese over standard Chinese due to China's long history and various cultures. Our first language is dialect Chinese, followed by standard Chinese, and then English. Due to the lack of an English-speaking environment and blocked internet access to the outside world, it's difficult for us to improve our English skills, making it a concern for international business. Let's now turn our attention to exploring the Chinese external market.
Alibaba
Open the external market for B2B and B2C and amidst that comes Alibaba, a well-known platform established in 1999 for traditional export business. It's still running smoothly and now perfect for running Amazon FBA business by placing bulk orders and letting them handle packaging and labeling for you before sending them to Amazon warehouse.
Factory

On this platform, there are two types of sellers: factories and trading companies. Factories have a two-layer business model, with Alibaba as the first layer, charging an annual fee of 80 thousand Chinese yuan (equivalent to $12,400 USD), which is costly for small businesses. They also need to pay for the pay-for-performance (P4P) fee to make their products stand out. The second layer is the factory itself, which should have an export sales team to cater to foreign customers. The biggest concern when dealing with the sales team is the Minimum Order Quantity (MOQ), which cannot be avoided. A larger MOQ is required to cover the costs of rent, machine purchase and maintenance, worker's salary, and other expenses. Small orders can cause inefficiency in production and lead to unstable factory maintenance.
Trading Company

The trading company model has three layers, with the sales team transformed into an independent company. It doesn't have to maintain the factory and has more options to purchase from multiple factories or 1688. The MOQ can be lower than the factory, but the price is marked up to generate profits for each layer. However, the trading company's service quality is usually better than the factory, with more professional communication and trading services. Despite being on the Alibaba platform, the basic yearly fee is still costly, requiring an MOQ to cover the platform cost.
AliExpress
When starting a dropshipping business in the B2C market, the go-to platform is AliExpress. It started in 2010 but boosted in 2018 with the creation of DSers, a Shopify plugin by AliExpress. It's convenient for fulfilling online orders. While there are conveniences with AliExpress, users may also experience some unpleasant situations, prompting interest in understanding the platform's critical logic.

AliExpress operates similarly to Alibaba's trading company model, but without the yearly fee. Instead, they charge an 8% commission fee per order. This absence of a yearly fee means anyone in China can open a store for free, resulting in varying service levels. As a result, it can be time-consuming to evaluate different supplier's service levels for product quality, shipping speed, and issue response time. In the end, AliExpress's third layer operates the same as Alibaba's trading company model.
Conclusion
Each of the 3 business models – factory, trading company, and AliExpress – has its pros and cons. The factory model offers competitive pricing, the trading company model is efficient in service, and the AliExpress model has the advantage of ordering individual items. Each model's pro is the other two's weakness. This gives a simple conclusion, and there can be more conclusions based on the models. Now, you have a full picture of China's internal and external market and know the position of each platform. Taobao, JD, Pinduoduo, 1688, Alibaba, and AliExpress. With this knowledge, you can be confident when using these China market platforms.