I can buy from AliExpress to do my ecommerce business.
Oh, wait a minute! you should buy from Alibaba that's much better,
Hey, you know what? you can buy from1688 and taobao that's the right place to go,
Ya, hold on! Try Pingdd and JD. These 2 platforms are even better.
So are you overwhelmed with all the platforms from China?
don't worry, I will explain all of these, and you will get a clear picture of the China online market, and can easily choose what you want. Let's dive into the content.
China Internal B2C Market

Look at this diagram.the china online market is composed of the Internal market where chinese citizens have the access to and the External market from where all the Foreigners can do the international purchase.
Open the internal market, there comes the B2C and b2b. In this episode, we will do the research focus on the china internal market. Open the B2C, there are Taobao, jd, and Pdd, and let's take a quick view.
Here is a big pie of the China Internal B2C Market at the year of 2020, Taobao takes 55 percent, jd takes 22 percent, while PDD takes 13% also not bad. and there 3 giants totally take 90 percent of the delicious big pie. you may wonder what's the difference between these 3 platforms, and is there any opportunity for my international business, ok, ok, let's go and check it out.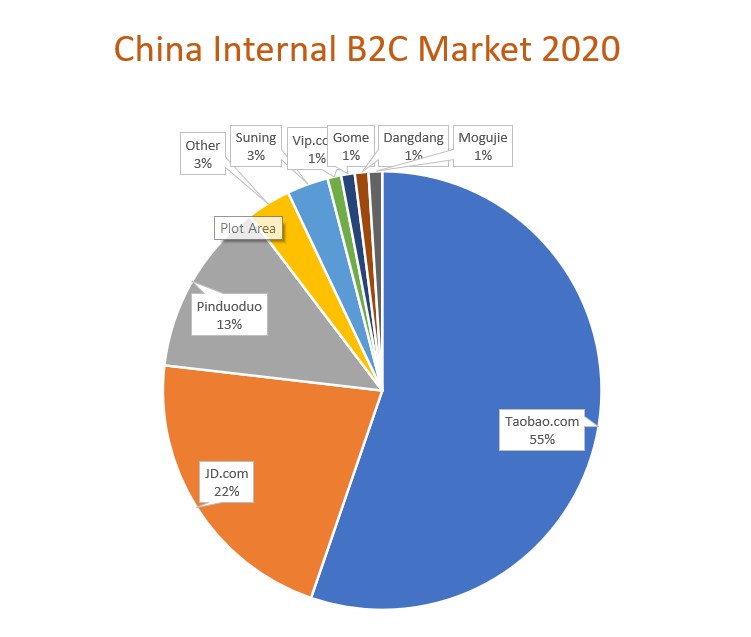 Taobao.com
First, let's look at Taobao, it was started in 2003 by Jack Ma who also created Alibaba, AliExpress and 1688. He is now 57years old and is the richest man in China with no doubt. Before he started the business, he was an English teacher, he really loved to talk and communicate,and was good at growing a strong leadership, maybe that's why he became so successful. Taobao started from selling Clothes and fashion material at the beginning, and now it is a really huge platform where you can literally find anything on it, yes, I really mean anything. and maybe you already know that he just beat ebay to build his ecommerce empire in china.
JD.com
Now let's look at JD,it was started in 2004 by Richard Liu who is 10 years younger than Jack Ma. When he was at college, He begin to create and sell software to other companies to make some money. Yes, he is a tech guy who wants to make things in a logical, efficient way, so when he started the JD, mainly focused on selling the 3C products which may be very simple, you just only have to compare the parameters, the price and just click to buy. What's the difference from Taobao, is that JD looks more like running his own business that everything is under control, and even he has his own delivery system which is really fast and amazing. As a result, another difference from taobao is that JD mainly sells the 3C and other high ticket products while taobao sells everything.
PinDuoDuo.com
The 3rd platform is Pingdd. It was started in 2015 by Colin Huang. He is really good at studying and got a computer science master's degree. Although we created the successful company at a young age, he realized his passion is still in CS and he just resigned from the CEO to do some CS research. Because the platform started in 2015, there is not much room for him. It started with selling cheap fruit, and nowadays people just wanna buy very cheap things on the platform, and just for fun, we really don't expect more for the quality .
Finally ,let's have a quick review of the 3 platforms . JD and Taobao compete at the high ticket products , while Pdd and TB compete at the low ticket products . refer to the consumers, yes, we men really love JD, it's always reliable, quick without bullshit. Taobao is mostly the female's paradise , you literally can find all kinds of things on that platform. pdd is mainly for the low income people with plenty of free time, for example , the old people just shopping for entertainment. The sellers in JD are big brands with strong marketing skills and a steady supply chain. In Taobao, anyone can open a store there, fROM tiny to small ,from big to huge. refer to Pinduoduo, it's suitable for you to join if you have a factory making cheap products or you are a farmer who has so many fruits.
So, maybe you already have your idea which platform contains the Opportunity for you . In general , Taobao is always a good place to go. It is always with new trends, new ideas and so many profitable things.
China Internal B2B Market
Now let's go to the B2B market The Internal b2b market listed here is 1688 and others, and open the others there are many more, and What I wanna to tell you is that we don't stick on the b2b platform a lot, we just use the platform as a bridge to reach the Offline factory.

Why ? Is there any problem with these platforms? Oh , yes the measurement is different. The online platform cares about the sellers for the sales volume, business years, custom comments, then if you spend more money on the platform yearly fee and p4p fee, you will get your store and products stand out. but as a buyer for big purchases we just care about the : price, quality, new product release, shipping speed, communication. That's all. so our process is 1. Search online, 2 communicate and run orders, 3 if the seller's performance is good, simply just reach out to the factory. so, as I have said above, the 1688 and other b2b platforms are good places to go, but the profound experience and deep connection to the offline factory are very important .
Now you have learned the China internal market, and in the next episode we will discover the China external market, then you will get the full picture of the China Online market. I bet you don't wanna miss it. If you like this video, please hit the like button and subscribe to my channel. Thanks for watching, see you.